Apple is without a doubt one of the most innovative companies in the world. Thanks to a quality marketing strategy, the Apple brand has federated a huge community and arouses impatience every year among its customers.
How?
Here are 7 lessons to remember from Apple's Marketing Strategy. To exploit without moderation!
Apple is an innovative company with a fantastic history punctuated by the ups and downs. On many occasions, the apple brand has gone bankrupt. Yet today, Apple is one of the 4 most powerful digital companies and this despite fiercer competition. How does Apple manage to stay on top of innovation and drive crazy consumers?
Each time a new product is launched, consumers rush to the Apple Stores and do not hesitate to spend hours in front of a shop to buy their new games and spend huge amounts of money. What lessons can we learn from Apple's marketing strategy? How can you get inspired by Apple to publicize your offers and develop your turnover ?
7 lessons to remember from Apple's marketing strategy
1 – Your consumers are your first ambassadors
If Apple is today at the top, it is primarily thanks to its users. This is the first lesson to remember from Apple's marketing strategy: your success depends directly on your consumers.
To maximize the impact of your marketing and communication strategy, you must build it for and with your consumers.
This is what Apple does well in its TV commercials, especially in this series of commercials that show the performance of the camera of its iPhone through videos filmed by its consumers:
The marketing lesson to remember: engage your consumers! Allow them to express themselves, give their opinion and share their satisfaction. Prove to your consumers that they are the source of your success and that you are fully grateful to them.
2 – A picture is better than 1000 words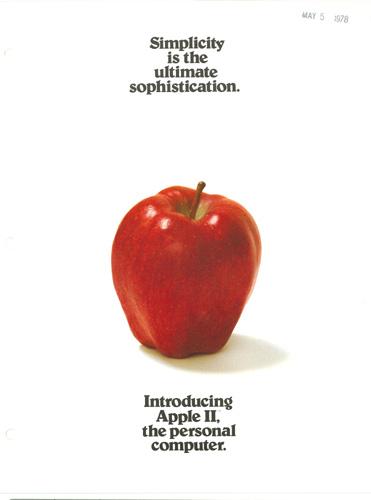 This iconic advertising reflects Apple's ambition to promote simplicity. We are far from extended visuals with all the features and performance of a product: here, Apple is satisfied with 10 words and remains most enigmatic.
If you visit its website, you will see that Apple's marketing strategy has not changed. Apple favors visuals, aesthetics and summarizes each of its messages in a clear and concise slogan.
If you are an innovative company, you must convince a buyer who is unaware of your new offer or, at best, does not perceive all the uses and added value. In this situation, the image and video can be of great help.
The marketing lesson to remember: at the time of infobésite, smartphones and tablets (the fault to whom?), Internet users do not have time to take cognizance of the content that is submitted to them. Want to hold their attention? Be visual and go to the essentials!
3 – To arrive safely, we must stay the course
The success of your marketing strategy depends on your ability to determine the right positioning and ensure it over the years. This is what Apple has done since its creation: yes Apple is expensive, too expensive, but much more than the desire to increase the margin, the prices set by Apple allow it to position itself as THE manufacturer of high-tech products. luxury. The prices that Apple practices match its target and brand image.
The marketing lesson to remember: analyze your target and make sure that your positioning and the image you are returning match perfectly with their expectations. Do not sail with the wind, set your course and maintain the wind and tides!
4 – Why make complicated when it can be simple?
With the internet and social media, consumer expectations have changed and marketing practices are adapting. To promote its products, Apple plays the card of simplicity and does everything to highlight the added value they bring.
This is the key to success: to seduce the consumer, it must be put in situation and transmit the emotions he will feel when using your product or service.
Today, the buyer no longer expects you to sell your offers . The buyer wants you to show him that you are the best option to solve his problem and achieve his goals.
The marketing lesson to remember: do not fall into the prefabricated speeches that only your employees understand. Think about the added value of your offer and transmit it as simply as possible.
5 – The man likes to desire more than the object of his desire
This lesson is philosophical but you can check it on a daily basis. Much more than the product itself, what the consumer likes is the desire. Apple has understood this and is taking full advantage of it by putting in place actions that provoke impatience among its consumers.
This is the goal of the traditional Keynotes regularly organized by the Apple brand: the objective is to present, at a VIP world press event, news and salivate consumers who will find these products a few days later in Apple Stores. Apple also knows how to play with its stocks so that the fear of rupture wins customers and they rush from the first day in the shops.
The marketing lesson to remember: to promote your products and services , do not go at the last minute. Your communication must begin at the earliest to make your customers salivate and make them impatient so that, on the day of the launch, they are all at the rendezvous!
6 – To be understood, one must speak the right language
This is one of the most common issues for my clients: they invest in their communication but their messages do not match their targets … How can they convince them in this way?
Since its creation, Apple has made the choice to manufacture products for people with no great computer skills: what is the interest for Apple today to communicate on the technical characteristics of its products? In each of its commercials, Apple presents the concrete benefits of its products: the quality of the camera of its iPhone, the battery life of its MacBook etc …
As an innovative company, you have to face a major challenge: the buyer does not suspect the existence of a new offer like yours and will not search you directly on the Internet. It is therefore vital for you to make yourself visible by using the keywords that your target enters into the search engines .
The marketing lesson to remember: Make sure your message is understandable to your target audience. Far too often, companies' thinking is biased by their experience and technical knowledge of the market. Language elements are essential for successful communication.